Advent 1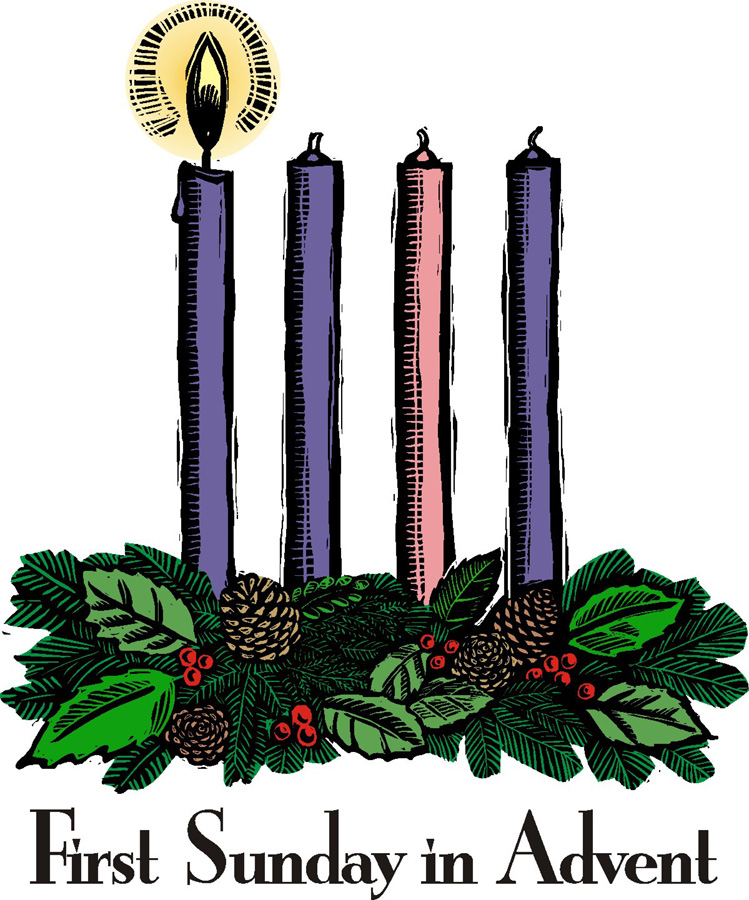 Today is the church's New Year. The Church year always begins with Advent. Advent is a season that brings a certain level of tension. Our culture wants to sing Christmas Carols and begin celebrating Christmas, but Advent wants us to wait. It can be a time of year that we can seem very out of step with the rest of our culture. The mall echoes with songs like "I'm dreaming of a White Christmas", and we see images of cozy sleigh rides, fire places, and hot chocolate and peppermint. … But, when we get to church we hear readings that warn us to prepare for a coming judgement as we wait for Jesus to return. It can feel a bit like Lent invading our Christmas celebrations. There are a lot of people that want to "bah-humbug" Advent. They see Advent as a serous downer that gets in the way of Christmas celebrations.

Our readings are not what our culture expects at this time of year, but they are important to prepare us.

Isaiah, the old prophet, reminds us of the cries of humanity throughout history. A history that is filled with war, violence, disease, and suffering. We are reminded to not be naïve about the world we live in. Isaiah expresses a yearning for a time when the ways of God would be respected by a united humanity. The profound peace that would be found on the earth would render weapons useless and they would be refashioned into farm tools. This yearning stands against the reality that humanity lives in- that of violence, conflict, disunity, and the rejection of God's ways. From the suffering masses of humanity, we hear Isaiah's voice that cries out with hope for a time when things will be made right.

The prophets yearn for the future when the Messiah is revealed, but they also point to why things are so bad. They call humanity to look at itself. To us, who always want to find the problem somewhere outside ourselves, the prophets point to us and make us view the reality that the reason we don't live in God's paradise is our unwillingness live the way God desires in every area of our lives. … But, the prophet's voice is ultimately a voice of hope that God has saved His people in the past, and that God will not allow injustice to persist forever.

In our Gospel reading Jesus says that his second coming will be like the days of Noah. It will come without warning. People will be living their ordinary lives when it suddenly happens. Anyone who predicts a date for Christ's coming is a liar. Christ himself, like the church, does not know the day or time. The angels don't know. The first sign that someone is wrong is that they claim to know. … This image of Christ sneaking up on us when we don't expect can leave us with a sense of excitement or fear. … We are reminded that the glowing baby in the manger will grow to be the king of kings, and the judge of all humanity. Jesus is relating his second coming to the time of Noah, when sin was washed away from the surface of the world. … Most of us fear judgement, but it is also through judgement that the world will be made right. … Part of what needs to be put right is us. We don't know how we will stand at the time of judgement. We trust in Jesus, but we can only hope. He owes us nothing.

In many of us there is a little twinge of fear when we think about Christ's return. Whenever I think about the judgement of Christ I am always reminded of the words of the preacher, Austin Farrer, who said,

"The God who saves us is the God who judges us. We are not condemned by his severity and redeemed by his compassion; what judges us is what redeems us, the love of God. What is it that will break our hearts on judgment day? Is it not the vision, suddenly unrolled, of how he has loved the friends we have neglected, of how he has loved us and we have not loved him in return; how, when we come before his altar, he gave us himself, and we gave him half-penitences, or resolutions too weak to commit our wills? But while love thus judges us by being what it is, the same love redeems us."

The Christ who judges us is also the one who loves us and died to save us.

Jesus tells us that since we don't know when his return will be we should
"42 Therefore, stay awake, ….
44 Therefore you also must be ready…" (Matt 24:42, 44).
How is it that we can be awake and ready? … We heard from St. Paul in Romans,

"the hour has come for you to wake from sleep. For salvation is nearer to us now than when we first believed. The night is far gone; the day is at hand. So then let us cast off the works of darkness and put on the armour of light. Let us walk properly as in the daytime, not in orgies and drunkenness, not in sexual immorality and sensuality, not in quarrelling and jealousy. But put on the Lord Jesus Christ, and make no provision for the flesh, to gratify its desires." (Rom 13:11-14)

Paul reminds us to live now as if he will come today. We might pat ourselves on the back for not being involved in an orgy, but we should remind ourselves that the works of darkness include quarrelling and jealousy. The works of darkness are all those choices we make that draw us away from God, and draw us away from the love of our neighbour. These have been systematized as the Seven Deadly Sins. These sins cause us to be asleep to the Spirit because they express a mistaken way of looking at reality. It is like being drunk- we aren't perceiving life accurately.

The Works of Darkness are opposed to the Armour of Light. To put on the Armour of Light is to be clothed with the character of Christ. Christ is the most awake human being that has ever lived. He sees and experiences reality as it truly his. His priorities are the proper priorities. His character is shaped to respond to life in the appropriate ways. His life is marked by the virtues that destroy the works of Darkness, which is perhaps why the Works of Darkness are not described using a military image- They are more chaotic. … But the Armour of Light is an active military image. It is protective, but it also something worn by a warrior going into battle.

Advent is a time to remember that Christ came in the past- born as a baby and placed in the manger. We are also reminded that Christ is coming again someday- when sin and injustice will be ended and the will of God will be imposed on reality. … Advent is about living between those two arrivals of Christ. … He is present with us now. We are the body of Christ and he promises to be in our midst, especially when we gather (Matt 18:20). He says he is present to us as those who are in need- to offer them help is to offer it to him- To reject them is to reject him (Matt 25). Christ will eventually come, bursting into the world in an obvious way that no one can deny, but (for now) he comes to us in disguise.

As we go through this season there will still be those who 'bah-humbug', wanting to rush past the self-reflection we are called to in Advent. But I encourage us to take this season seriously. … Remember the longing of humanity for a future filled with justice and the presence of God- learn to feel that longing in your bones. Build that longing expectation for the coming judgement of Christ when things will be made right. … But more than anything, be present now- be awake to who we are called to be in Christ right now. These are the true ways to prepare for the season. AMEN.