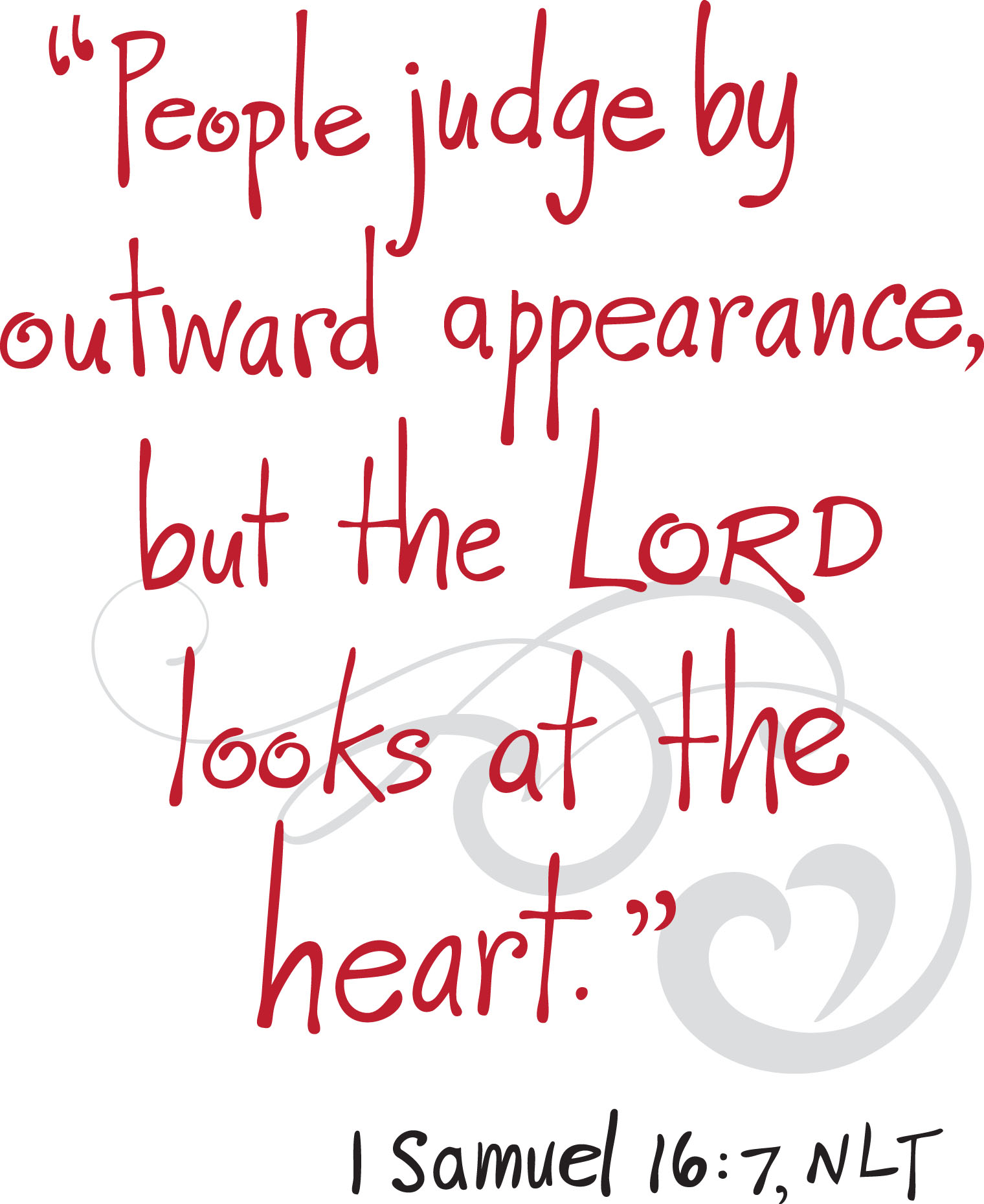 We find the prophet Samuel in mourning. Israel's first king, Saul, is a failure. The one Samuel anointed, the one God chose, has failed. …

But, God speaks up, "it's time for something new. I know we had high hopes for Saul, but he's just not working out.".

Samuel gets his oil and sets out for Bethlehem. He is careful not to raise suspicion, so he takes an animal for sacrifice. He's just doing his rounds- caring for the people's souls. If Saul found out what God was planning, he might try to kill Samuel and anyone who looked like they were helping him.

When he arrives in Bethlehem he invites a man named Jesse and his sons to the ceremony. A prophet doesn't come to town for no reason. They know something is up. The prophet has Jesse present his eldest son to him. He is tall, attractive and strong. Samuel gets out his oil, but God stops him saying,

"Do not consider his appearance or his height, for I have rejected him. The LORD does not look at the things man looks at. Man looks at the outward appearance, but the LORD looks at the heart."

I once heard the pastor Eugene Peterson describe how his mother told him this story. She would embellish on the story, so she said the eldest was presented and he was big and strong, just full of muscle. But he wasn't chosen. … The next oldest was presented. He was very smart. He wore a tweed jacket, dark-rimmed glasses, and had 3 PhD's. But he wasn't chosen. … The next was smooth. Just a really cool person. Everyone wanted to be seen with this guy. But he wasn't chosen. …. The next brother was very charismatic. He could really motivate people. But he wasn't chosen. … Every brother who was presented had a good reason to be chosen based on their outward appearance, but they were ultimately not the chosen one. … Finally, all of his sons pass before Samuel, and all of them are rejected by God to be king.

Samuel thinks, "There's something wrong here". Confused he turns to Jesse, "Are these all your sons?"

Jesse looks confused, "well there's the youngest- he's looking after the sheep" there isn't anything special about him though. If you rejected my other sons, I don't understand why he would be the one."

Samuel tells Jesse to bring him.

David finally arrives, he is anointed the next king of Israel, and God's Spirit comes upon him. The little shepherd boy that Jesse didn't even think to bring with him to the ceremony.



It is like the story about the sword in the stone. The sword is stuck in a stone, magically imbedded in it. Only the true and future king of England can free the sword. Strong men from all over the country line up for an opportunity to pull on the sword and take their place as the rightful king of England. But, it was a small boy, a nobody, who accidentally draws the sword, making him the future king.



David, this young and relatively unimpressive boy- a nobody, is anointed the new King of Israel. He was chosen for his heart, and not his outward appearance. David will be the King of God's people- Abraham's descendents who God would use to bless the whole world. Both books of Samuel are really all about David, he is the central figure. David is the one who establishes Jerusalem (otherwise known as the City of David) as the capital of Israel, and solidifies the country. David is the one who makes plans for the building of the temple that would become the center of Judaism. The songbook of the Bible- the Psalms- are said to have been written by or for David. David is the king against whom all other kings will be judged. … The awaited messiah, called the "Son of David", is from David's family. The little shepherd boy changes his people and becomes a pivotal figure in his religion. God uses the humble, unexpectedly.





God has this thing with using the unassuming. Even though Moses had a speech problem God sent him to negotiate with Pharaoh and communicate God's Law. Jesus, a carpenter's son, was from Nazareth. A joke about the place made it into our Scriptures- "can anything good come from Nazareth". … Who thought Abraham and Sara, an elderly couple with no children, could give birth to a nation that would bless the world? Who thought a little nun named Theresa could make a difference in the poverty of Calcutta? Who thought that a tax collector and bunch of fishermen would make good disciples to spread God's good news to the world?

Wouldn't it have been better to pick someone who had a university degree? Someone who had experience speaking in public? Someone with administrative ability (well maybe the tax-collector did)? But, no, God chooses the unassuming. Maybe it is because there isn't as much of an ego to deal with. Maybe it is so that people will know that it is God, because otherwise it wouldn't make sense. The credit goes to God in all these cases. Who would have believed that fishermen could preach and teach like that?

My favorite saint is Francis of Assisi. He lived a life of incredible simplicity, but accomplished an amazing amount in his short life. One of Francis' companions was Masseo. He was a great preacher, and he was a handsome man as well. Perplexed, Masseo once repeatedly asked Francis as they walked along the road, "Why after you?" When Francis asked him what he meant he said, "I mean, why does all the world seem to be running after you and everyone seems to want to see you and hear you and obey you? You are not a handsome man. You do not have great learning or wisdom. You are not a nobleman. So, why is all the world running after you?" Francis thought for a moment, then replied by quoting 1st Corinthians 1:27: "God has chosen the foolish things of this world to shame the wise."



Jesus preached that a kingdom had arrived- God's kingdom. In this Kingdom everything was upside down. The first will be last. The fishermen will teach the religious experts. The blind will be the ones that see. The tax collectors and prostitutes will enter the kingdom before the priests and religious. The greatest among them will be a servant. Their king will save them by dying, not killing. And unless you become like little children you will never even enter the kingdom.





I guess the point is that we should be ready to be surprised by what God does, and who God chooses to work through. We should keep ourselves open and beware of our prejudices. We need to be willing to "not consider appearances", and look as God looks, at the heart. … We also need to be willing to be a little upside down and backwards from the world from time to time. … We should also beware of saying, "God would never use me to do something in the world" because it seems like that is exactly who God does use to make a difference in the world. David, the little shepherd boy, was so unexpected to be in line for the throne they didn't even bring him to the ceremony. And yet, God works through the unassuming.