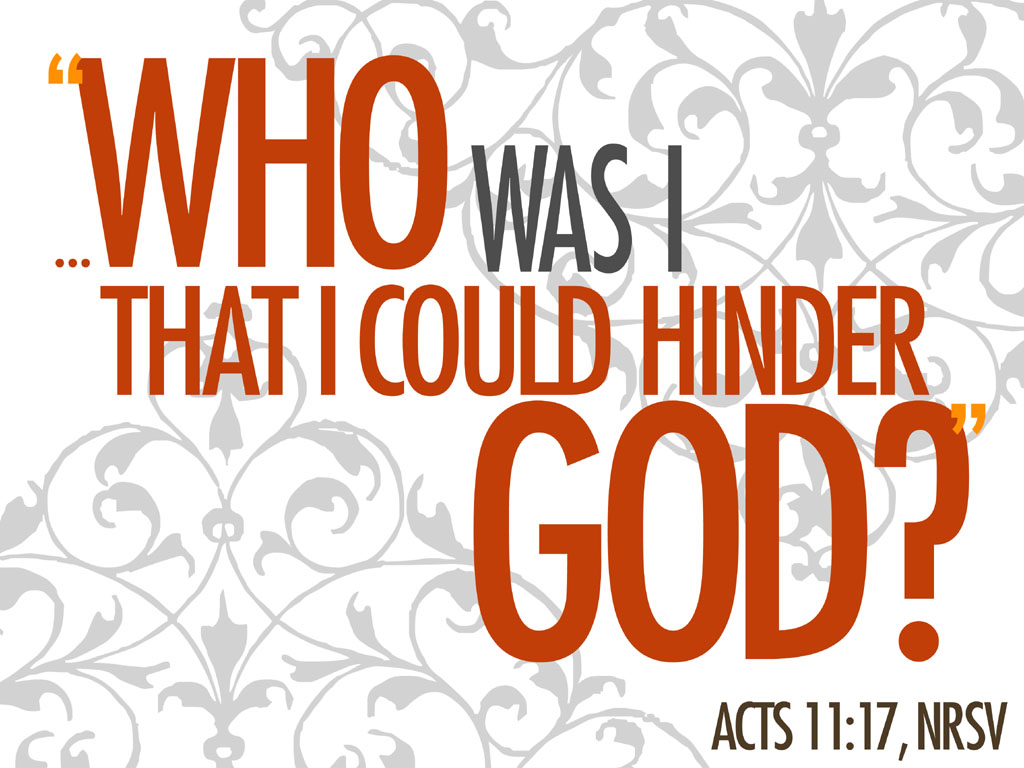 The Church ran into a problem at the very beginning.
At the end of the Gospel of Matthew Jesus tells his disciples,
"Go therefore and make disciples of all nations, baptizing them in the name of the Father and of the Son and of the Holy Spirit, and teaching them to obey everything that I have commanded you."
So, the disciples have been commanded to go into the non-Jewish world to help them become followers of the Jewish Messiah.

In the first century, Judaism wasn't very interested in helping others convert to Judaism. However, there was a small number who were active in encouraging Gentiles to convert, and as a result there were some Gentiles who had become very attracted to Judaism. Gentiles who had started worshiping the Jewish God, but who hadn't fully converted to Judaism were called God-fearers or God-worshipers. Many gentiles were content to not fully convert. They remained Gentiles, but they worshiped God. This meant they followed fewer laws (7 rather than the 613 devout Jews were obligated to follow). Male God-fearers also wouldn't have to be circumcised, which would be required to fully convert to Judaism.

But, without fully converting to Judaism their participation would also be somewhat limited. For example, they would only be allowed in certain parts of the Temple (the part of the temple Jesus cleared the money changers out of was the court of the gentiles), and even eating at the same table with devout Jewish people seemed to not be allowed. This wasn't about them being snooty. Table-fellowship had to do with everyone at the table having a certain ritual purity according to the Jewish Law- it was a part of the kosher rules about eating.

That was the background environment as the disciples of Jesus went out from Israel sharing the news about Jesus. When the disciples of Jesus came to the Gentiles they were going to have to figure out how Gentiles would be included.

In becoming a follower of the Jewish messiah, it would make sense that you should have some connection to Judaism. The followers of Jesus believed that they were part of the continuation of the covenant of Abraham, where God promised that Abraham and Sarah's children would be a blessing to all the families of the earth. The mark of the covenant of Abraham was circumcision. So, it made all kinds of sense that the followers of the Jewish messiah, the climax of the covenant of Abraham, would receive this mark as a part of their becoming disciples. That also implied following the Law of the covenant of Moses- the Law given to Abraham's family- a Law Jesus modeled his life on.

If the question is "how Jewish do you have to be to be a disciple of Jesus?" it would make sense to say, "very Jewish. He is the Jewish Messiah, after all." The temptation then would be to mimic what Judaism looked like in the Gentile word.


I can see the logic of requiring Gentiles to be converted to Judaism in order to then become disciples of Jesus. It makes all kinds of sense to me. It was bold and almost shocking for the church to not require this of Gentiles. The church made a decision to remove unnecessary rules and traditions that were barriers.

This makes me wonder where we might place barriers for people who are coming to know Jesus.

Rules and traditions can be very good things, but there are times when we have to be careful that we aren't insisting on unnecessary laws and traditions. For example, if we use incense and it causes some people to cough uncontrollably and have a very difficult time worshiping with us, then we should question if that tradition is an unnecessary barrier for some people. We need to hold onto important traditions and beliefs, but perhaps we have some that are an unnecessary barrier for some people. It is important for us to ask what traditions and beliefs we hold onto that we need to hold lightly. Are pews necessary? Do the pews have to all be facing the same direction? Are our robes necessary? Is a certain style of music necessary? Is a certain style of worship necessary? … I'm not suggesting we get rid of any of these, but we should be open to change if it is seems necessary to do so.

Now there are other things that we just can't get rid of without losing our core identity. For example, imagine the first Christians saying, "well, we aren't going to have the Communion (bread and wine) anymore because we can't have table-fellowship with Gentiles and we want them to be included." But, the Communion was so important that they couldn't get rid of it without doing significant damage to their identity as disciples of Jesus. To give up the practice of the Eucharist is too much.

Just like the early church, we are having to hold an important balance. We must be willing to give up traditions that are causing too much of a barrier to helping people follow Jesus. But we have to be careful not to give up something that is actually a significant part of being a disciple of Jesus.

For example, as Christianity has gone around the world it has picked up the cultural style of the people. Christianity in Israel looked stylistically different than in Greece, or Rome, or Ethiopia. As Christianity went to the British Isles it took on a Celtic style. For Christianity to be adopted in certain countries, there were certain cultural stylistic changes that were made, without changing the central aspects of what it meant to be a follower of Jesus.

I believe that was a major mistake that was made as Christianity came to North America. The cultural style of the aboriginal cultures should have been able to connect with Christianity. Instead, the Christianity that was brought to Canada often retained its European style, which didn't fit aboriginal communities very well. It was inflexible regarding some stylistic elements when it shouldn't have been. Other cultures were able to have an influence on the style of worship, but Aboriginal culture was not given that same opportunity.


In our reading Peter has a significant experience when the Holy Spirit identifies a barrier that needs to be removed.

Peter has to answer accusations regarding eating with Gentiles (which was against the kosher eating tradition). Peter answers saying he saw a vision having to do with ritual cleanness that came with a voice saying, "What God has made clean, you must not call profane." As Peter is wondering what this means he is invited to a Gentile's home (who is considered ritually unclean, though he is a God-fearer). When he speaks to these gentiles about Jesus the Holy Spirit descends on them and they start speaking in tongues, just as happened to Jesus' Jewish followers on Pentecost. To Peter this is evidence that these Gentiles are acceptable to God as they are, without following all the Laws and without receiving circumcision.

This is also Paul's position, which we see especially in his letter to the Galatians. He tells them in very strong terms to not get circumcised and to not practice the Law-keeping of traditional Judaism. He goes so far as to say, "if you become circumcised, Christ will profit you nothing" (Gal 5:2).

For Peter, the evidence of God's blessing was so strong he was convinced that Gentiles did not need the cultural barrier of circumcision and traditional conversion to Judaism. I'm still amazed by how bold that move was. They allowed the Gentiles to join the church without having to become Jewish first. They could come to Jesus as Gentiles. The wisdom of the early church saw that the important sign of circumcision, along with many of the purity laws, did not have to apply to those who were non-Jewish. They were in a new age.


We too should be careful to hold our traditions and cultural habits lightly. They are important and shouldn't be discarded without serious thought and prayer, but we should remain open to the Holy Spirit guiding us that way. Are there barriers we are putting between people and Jesus that are unnecessary? Maybe we hold too tightly to our denomination. Do we hold to a certain social and intellectual classism that makes people feel unwelcome? Do we, God forbid, have any racism or sexism in our midst? What the Church realized is what Paul wrote in Galatians 3 (Gal 3:28)
"There is no longer Jew or Greek, there is no longer slave or free, there is no longer male and female; for all of you are one in Christ Jesus."
That was a revolutionary idea in the ancient world. I suspect it is still a revolutionary idea if we truly grasp its full meaning. AMEN