Psalm 91- God's protection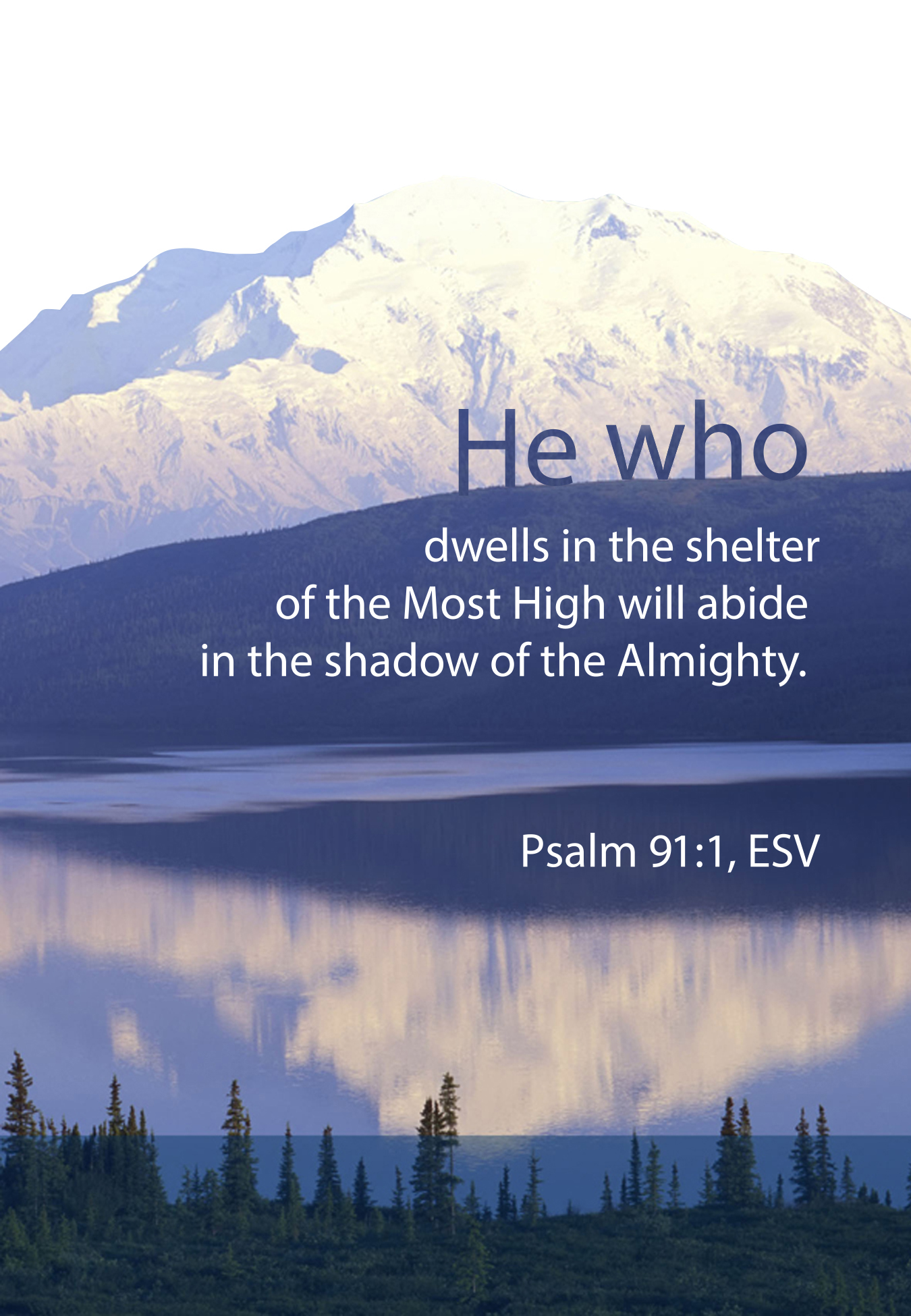 Psalm 91 is one of the more famous Psalms. It is one of the recommended Psalms to use for the Compline service in the Book of Common Prayer, which is the service prayed just before bed. Going to sleep at night in the Book of Common Prayer is a bit like practicing for death. It is a time to trust yourself to God in the midst of darkness and the loss of consciousness. Psalm 91 is a call to trust in God as your protector-
"I will say to the Lord, 'My refuge and my fortress, my God, in whom I trust'. For he will deliver you…".
The Psalm goes on to describe this protection-
"3 For he will deliver you from the snare of the fowler and from the deadly pestilence".
These are both hidden dangers. A fowler is someone who catches birds. The fowler's snare is a trap that is hidden to the birds that are caught by it. Likewise, you don't see a disease coming until people start getting sick.

There are a lot of images used-
"4 He will cover you with his pinions, and under his wings you will find refuge; his faithfulness is a shield and buckler."
Pinions are the outer parts of a birds wing, which includes the strong outer feathers. The image is of God stretching His wings out over you. I've heard of a story where a barn catches fire and a hen gathered her chicks under her wings. She died being exposed to the fire, but the chicks survived by being under her wings. … The next image that is used is the shield and buckler. A shield covered a good portion of your body, and a buckler is like a small shield that is mostly used for deflecting so you don't harm your hand. Both might be used because in Hebrew poetry repetition is a way of emphasizing. …

The Psalm shows the protection of God extending from all that might sneak up on us at night, to the enemy archers of the day. It says you will have the ability to step on lions and poisonous snakes. … The Psalm is dramatic in its declaration of protection. It imagines you in a crowd with thousands and thousands of people, maybe in a war, or maybe during a plague. You stand with thousands falling all around you, but you are untouched. It's like a scene from an action movie and you are the invincible hero standing while the bad guys have all been smashed into oblivion.

It is a pretty all-encompassing image of divine protection. It might leave us feeling invincible. All we have to do is trust God then nothing can harm us. … Sometimes we do feel this kind of supernatural protection. We receive healing when the doctor said we were terminal. We feel a hand hold us from stepping off the curb as a car whizzes by us, nearly hitting us. There are times when everything seems to fall into place- all the right doors are opened. We are surrounded by helpful "coincidences".

These images might remind us of when Paul is bitten by a poisonous snake while gathering firewood and is completely unaffected to the amazement of everyone (Acts 28). We might think of Meshach, Shadrach, and Abednego, who were thrown into the furnace and survived (Daniel 3). Or, maybe we think of Daniel who was thrown into the lion's den (Daniel 6). We might think of Peter who was miraculously released from prison in the middle of the night (Acts 12).

This way of thinking about this Psalm (that God will offer unlimited protection from the pains of life) was used by Satan when tempting Jesus. In Matthew 4 we read,
"5 Then the devil took [Jesus] to the holy city and set him on the pinnacle of the temple 6 and said to him, 'If you are the Son of God, throw yourself down, for it is written, 'He will command his angels concerning you', and 'On their hands they will bear you up, lest you strike your foot against a stone.' 7 Jesus said to him, 'Again it is written, 'You shall not put the Lord your God to the test'" (Matt 4:5-7).
Satan wants Jesus to use this psalm in a way that tests God, not in a way that trusts God.

This whole Psalm is ultimately about trusting God. It is about trusting God even though there is disease, enemy archers, terrorism, war, poverty, and environmental disaster. Like Psalm 23 that speaks of God's faithful presence in the midst of enemies and the valley of the shadow of death.

We should be careful to read this Psalm in tension with the rest of the Psalms. Some Psalms lament that the wicked seem to get ahead while the righteous seem to receive constant pain. If we read this Psalm out of the context of the rest of the Psalms we might be left wondering what we have done wrong when something bad happens to us- Did we not have enough faith? Did god forget about us? ... John Calvin and Martin Luther both offer a corrective comment on this psalm saying that we are never promised a life of ease and luxury. We may have moments where everything seems to go well and we might even be aware of supernatural intervention in our life. … But, we should also remember that both Peter and Paul were imprisoned and executed while trusting God and serving Him faithfully. We should remember the powerful story of Job, who deserved none of what happened to him. And above all, we should keep in mind the example of Christ who, having done nothing but love and speak truth, was opposed by the authorities and crucified. He also told us to pick up our cross and follow him- and called that faithfulness.

This Psalm is a beautiful declaration of God's protection. And it is important that we don't fall into the temptation that Satan sets for Jesus. Thinking that faithfulness means things will always go well with us. … Things will go well for us, ultimately. In Romans 8, Paul says,
"16 The Spirit himself bears witness with our spirit that we are children of God, 17 and if children, then heirs—heirs of God and fellow heirs with Christ, provided we suffer with him in order that we may also be glorified with him.18 For I consider that the sufferings of this present time are not worth comparing with the glory that is to be revealed to us" (Romans 8:16-18).
We might face storms, but we will get through them. Even if we die, we will get through them. In our Psalm God says,
"14Because he holds fast to me in love, I will deliver him; I will protect him, because he knows my name. 15 When he calls to me, I will answer him; I will be with him in trouble; I will rescue him and honour him. 16 With long life I will satisfy him and show him my salvation".
Ultimately, regardless of what we face and what we suffer, he is holding us and will bring us through it. Trust Him. He is your refuge. He is your fortress. AMEN