Psalm 80- Lament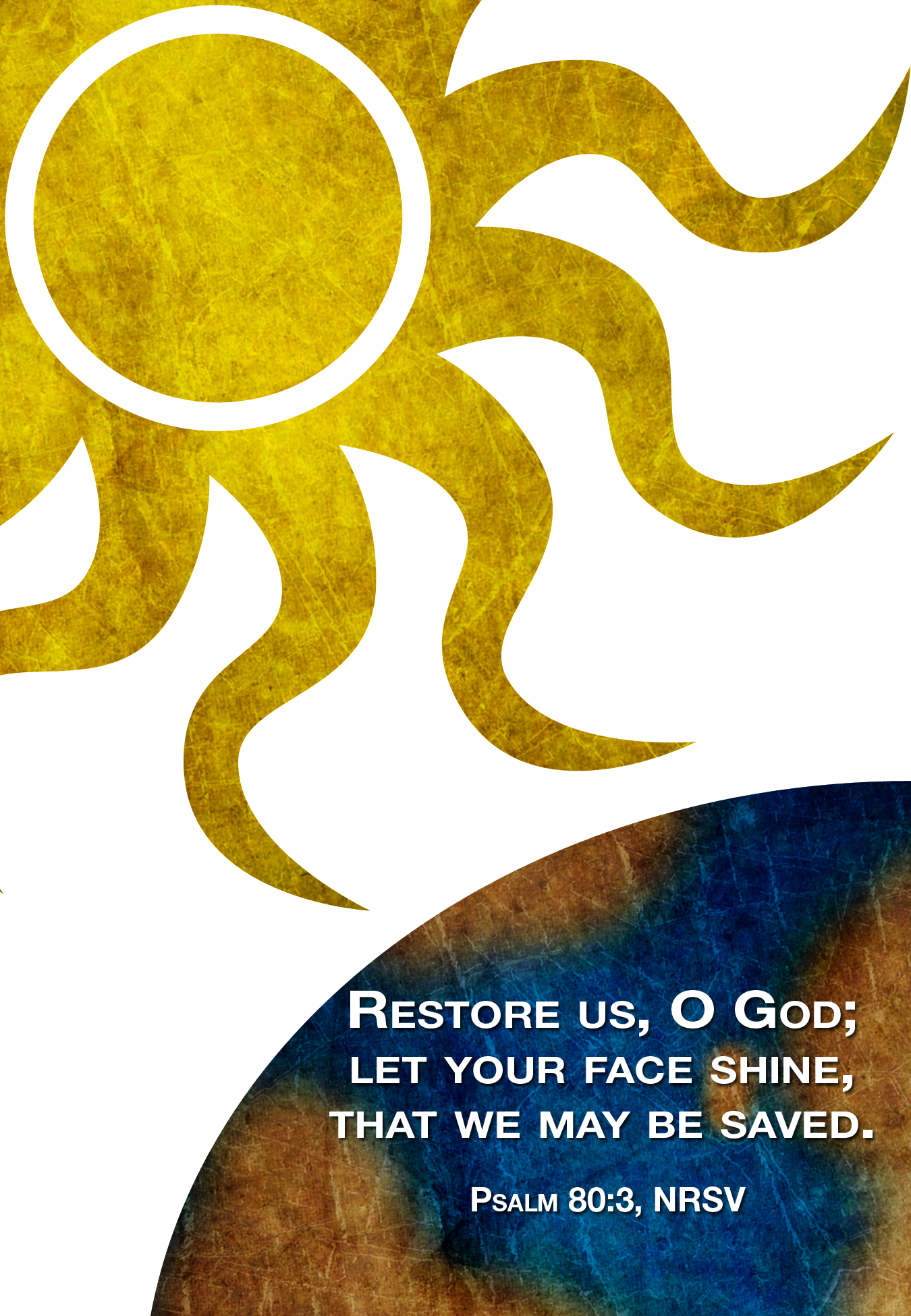 Today we are looking at the Psalms again. We are looking at Psalm 80 this morning. It is called a Psalm of lament. It is a Psalm where the people are making a complaint to God.

It is a bold song to sing. The prescript says, "to the choirmaster" so this Psalm was probably a song. And the name of the tune might also be given- "according to lilies". I'm not sure how many laments we sing to God anymore- maybe during Lent. I love how the Psalms are so open and honest towards God. I think that is evidence of good prayer- honesty before God. … Have you ever just wanted to call out to God, "why is this happening to me?" The Psalms show an amazing honesty with God. … Out of a sense of piety, we might be less inclined to pray that way, but the Psalms teach us to be honest in our prayer- even if we are complaining to God.

The Psalm opens with a description of God who they are lamenting to. … Sometimes it is helpful to remind ourselves who we are praying to, so we will often say "loving Father", or "God of compassion". … It helps us to focus. … They call God the Shepherd of Israel, who leads Israel like a flock of sheep, and who is enthroned upon the cherubim. The Ark of the Covenant is described as a golden box that is topped with two cherubim. The people were said to experience a manifestation of God's presence above the winged cherubim, so it acted like a throne in their eyes (1 Sam 4:4; 2 Sam 6:2; 2 Kng 19:15; Ps 99:1). The presence of God surrounded the Ark- It led the people through the wilderness. It was with them in battle, and when the Temple was built the presence of the Ark was evidence of the presence of God in the Temple. Like a shepherd leading a flock, God's presence and protection was powerful through the Ark.

The Psalm also speaks about the relationship God has with His people. The image of a vine is used to describe the people, which is pretty common in the prophetic writings (Jer 2:21, 6:9, 8:13; Hos 10:1, 14:5-7, Is 27:2-6; Ez 15; 17; 19:10-14; Gen 49:22). It is described as being brought out of Egypt. The ground was cleared to plant it in the Promised Land, and it prospered there. It filled the land. … This is the main story of Israel's identity- as rescued by God from slavery in Egypt, and established in the Promised Land.

They cry out for help, not on the basis of anything they have done, but on the basis of what God has done. God went through all the trouble of planting this vine, and now the gardener has broken down the wall that protected it, so that people pass by and eat the grapes and wild animals destroy it. … The Psalm cries out to God saying, "God, are you going to let this be done to your vine that you have tended with such care?"

It is interesting to look at the Prophet Isaiah who takes this same theme of the vineyard, but responds from God's point of view. Let me read it for you, Isaiah 5:1-7-

… My beloved had a vineyard

on a very fertile hill.

He dug it and cleared it of stones,

and planted it with choice vines;

he built a watchtower in the midst of it,

and hewed out a wine vat in it;

and he looked for it to yield grapes,

but it yielded wild grapes.

And now, O inhabitants of Jerusalem

and men of Judah,

judge between me and my vineyard.

What more was there to do for my vineyard,

that I have not done in it?

When I looked for it to yield grapes,

why did it yield wild grapes?

And now I will tell you

what I will do to my vineyard.


I will remove its hedge,

and it shall be devoured;


I will break down its wall,

and it shall be trampled down.

I will make it a waste;

it shall not be pruned or hoed,

and briers and thorns shall grow up;

I will also command the clouds

that they rain no rain upon it.

For the vineyard of the Lord of hosts

is the house of Israel,

and the men of Judah

are his pleasant planting;

and he looked for justice,

but behold, bloodshed;


for righteousness,

but behold, an outcry!
In Isaiah, God is saying that He was looking for fruit from the vine he tended so carefully, but it didn't produce good fruit. Why should He place a vine like that under special protection? If it is going to yield wild grapes instead of good grapes, then perhaps the vine should be returned to the wild, instead of being protected by walls and lovingly cared for. The fruit God is looking for from his people are justice and righteousness, but instead his people produced bloodshed and the outcry of the oppressed. If they weren't going to act like his special chosen people, then He was going to remove His special protection.

From the Psalm's perspective, they seem to accept what's happening as being a consequence of their behaviour. There doesn't seem to be a protest that what they are suffering is unjust. … But they still lament. What else can you do when everything is going sideways? God's people still turn to God, even if it's to complain. Sometimes we feel the consequences of our bad decisions, but that doesn't mean we have to like living through those consequences. We can lament those consequences, even if they are deserved. We can also cry out to God for the end of those consequences. (And I'm not saying everything bad that happens to us is a consequence of our sin. Sometimes we feel the consequence of other peoples' sin, for example)

Using the Early church's way of reading, and considering how the Church seems to have lost favor in our culture, we might ask if that is the withdrawing of God's protection over the church in the West. We might cry out to God that the Church is no longer favoured in places of power. Government meetings are less inclined to begin with prayer- in fact, public prayer in those places might be considered immoral or offensive. The news seems much more interested in what churches and their leaders are doing wrong than in what they are doing right. The universities, which often began as a part of a monastery, can now feel anti-religious. … There was a time when the church seemed to have a protected place in western culture. We might lament over the vine being mistreated and the wall being left broken. … Then, looking To Isaiah, we might ask if we are living in a consequence of the decisions of the church of the recent past. … Answering that side of the equation would require intense humility and prayer.

There is still faith here in this Psalm- there is still hope in a future ... Sometimes we have to calm down and trust in what God has made and trust that God knows how to tend it into the future. In his letter to the Philippians Paul says,
"I am sure that he who began a good work in you will bring it to completion at the day of Jesus Christ" (Phil 1:6).
Paul is confident that whatever struggles we are facing it is not evidence that God has given up on us. God will complete what He has started.

As we continue to read with the eyes of the Early Church we see the Messiah. … The Psalm refers to "the son" (v15) and "the man of your right hand" (v17) and "the son of man" (v17). These are references to the king, but they soon took on a Messianic meaning. A text called the Targum was a paraphrase of the Scriptures from the 1st century (something like The Message Bible) and in this Psalm it refers to the "king messiah". … This reference to a king is often invoked as a way of asking God to remember the promise made to David and his ancestors. … You can imagine what the Early church saw in these verses. To them, they were speaking about Jesus, the "Son" of God, who ascended to the "Right hand" of the Father, and who often called himself "the Son of Man". And no doubt, the one referred to at the beginning of the Psalm as the "Shepherd of Israel" is seen as the one who walked among the people and said,
"I am the good shepherd. The good shepherd lays down his life for the sheep" (Jn 10:11).

The presence of Jesus in this Psalm of lament says to the church that God is in the thick of it with us. When we feel like things are all going wrong, that doesn't mean God has abandoned us. God is right there with us. Pain and suffering is not evidence of God's absence. … It is as if while God's people are lamenting, we look at the pew beside us to find Jesus lamenting right along with us, saying, "Restore us, O God of hosts; let your face shine, that we may be saved!" … We will experience suffering in this life- and it might be a consequence of our own bad decisions- but even so, we are not alone in that suffering.

AMEN

A question that this Psalm might lead us to is 'why does is seem like God doesn't answer our prayers?" In verse 4 we read, "O Lord God of hosts, how long will you be angry with your people's prayers?" I feel like it is important to say that whatever we mean by "anger" when it comes to God it isn't human anger. It might mean the experience of God being opposed to something that is against God's goodness. If you are doing something evil, then you are in opposition to God's goodness, and that experience might be described as experiencing God's anger.
Remember, also, that when we read the Psalms we are overhearing prayers. Some have said we should be careful about drawing theological conclusions from the Psalms because sometimes we are reading the emotion of an individual who is approaching God. We are reading a particular emotional and prayerful perspective that might not be concerned for answering theological questions.