How the Grinch Stole Christmas: The Extended Ending
How the Grinch Stole Christmas: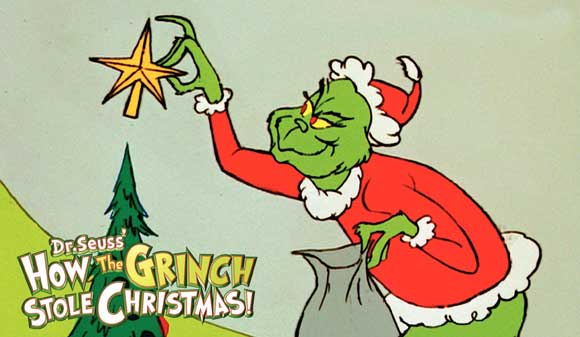 (just a silly thing I wrote for our Nativity play)


Every Who down in Who-ville, the tall and the small,
was singing! Without any presents at all!
He HADN'T stopped Christmas from coming!
Somehow or other, it came just the same!
And the Grinch, with his grinch-feet ice cold in the snow,
Stood puzzling and puzzling: "How could it be so?
It came without ribbons! It came without tags!
"It came without packages, boxes or bags!"
And he puzzled three hours, till his puzzler was sore.
Then the Grinch thought of something he hadn't before!
"Maybe Christmas," he thought, "doesn't come from a store.
"Maybe Christmas…. Perhaps … means a little bit more!"
Well… in Who-ville they say
That the Grinch's small heart
Grew three sizes that day!
And the minute his heart didn't feel quite so tight,
He whizzed with his load through the bright morning light
And he brought back the toys! And the food for the feast!
The Grinch carved the roast beast!
You may think that is how the story ends
But there is a bit more my curious friends
At the Who feast, as they ate, the Grinch inquired
how his dark heart was so wondrously rewired
and released from its hate and grump and callous uncaring
And filled instead with love and with sharing
And as the Grinch carved the roast beast,
He turned to the Who who headed the feast,
And asked, "sir, what was it what made my heart grow
As I stood with my sled in the cold cold snow?
And the head Who turned to the Grinch with twinkling eyes
"Your heart grew because of someone who came in disguise
"He filled your heart with love like a balloon
"And warmed it like a sun-filled day in late June
"So it wasn't a 'what' at all but a 'who'?,
asked the Grinch as he began to chew
"It was a who", the old Who replied
I shall introduce you, I'll be your guide
But to know anyone, you must know their story
perhaps you'll catch a glimpse of his glory
There are many places to start, but where I'll begin
is with a young girl who held God within
"There was a young girl who was often in blue
She helped with the chores, and to pray she withdrew
Once, she was visited by an angel and told of a babe
Who would fill her belly, and the world he would save.
The girl responded confused by the message
Perhaps the angel misheard the date of her marriage
But there was no confusion at all
As a mother, this is how she would answer God's call
Her betrothed was a descendent of David, a great king
It was he who gave her the promise of marriage, and a ring
He was a gentle, strong man, and a skeptic at first,
But the angel told him it was God's son she would nurse.
So the two of them stuck through the difficult plight
And journeyed to Bethlehem where he was born in the night.
He was not born in in a hotel for there was no room
The King of Glory arrived in a defenseless costume
He came as a child, vulnerable and weak
He was placed in a manger, a cow at his cheek
The owner of all, he gave it all up
To become one of us and offer his cup
He was not recognized and so was not greeted
Except by a few, the humble, not the conceited
Angels told shepherds of the baby's arrival
Though, King Herod threatened the child's survival
Following the wise men, the king would conspire
Hoping to destroy the baby messiah
The wise men arrived, and delivered their treasure
Upon seeing the child they were filled with pleasure
Gold, frankincense, and myrrh, odd gifts for one so small
The little one was still struggling even to crawl
But accurate gifts, for a king who would save
The world from their sins and stand so brave
Against evil and corruption and teach us to love
He would be wise as a serpent and kind as a dove
Away from the evil king, they fled
until they heard that king Herod was dead
The Grinch kept on chewing his delicious roast beast
But was looking puzzled and his forehead was creased
"excuse me, I don't understand how this child
Is connected to my heart being beguiled
It is a fascinating story you've told
But as for the connection, I'm still a bit cold"
The wise Who looked at the Grinch with kind eyes
"Grinchiness plagues this world and it stands unwise
To live with such hate and greed in your heart
What the child offers us is a brand new restart
You see, when he came among us he seemed quite plain
But if we really knew the degree of his domain
We would see that in this child's face we meet our creator
And in this small child we see that God is no evil dictator
But, rather, kind and willing to bend to meet our eyes
Like a father who is loving and infinitely wise
He came to be with us, and show us his face
In order that we might have a lasting embrace
He entered a world that was broken and fallen
Filled with pain and sorrow and people like Stalin
He came to correct what had gone wrong
Where we were weak, he became strong
Where we were tempted he continued to fight
As a human being he would be our white knight
He would fight for us against every foe
And his victory on us he would bestow
He even fought death, the dark grim reaper
And came out on top, as if in the grave he was merely a sleeper.
And so he looks for cold hearts that have shrunk with hate
And looks for a door, a window, or small gate
So he can enter in and fill them with love
That they might grow large and the hate be disposed of
You see he came to show us who we were meant to be
Lives filled with God's love, courageous and free
And so, Mr. Grinch, what you felt in your heart,
Was Christ's presence giving you love to impart
And the Grinch finally got it, His heart and his head
Were knit together with one loving thread
His eyes filled with wonder and his grin grew bigger
His heart grew another size and was renewed with vigor
He finally saw how Christmas still came
How the whos kept on singing, in spite of his game
In his heart he saw the small child in the manger
Love incarnate, risking the danger
To show us God's care and infinite grace
But above all, to show us his face